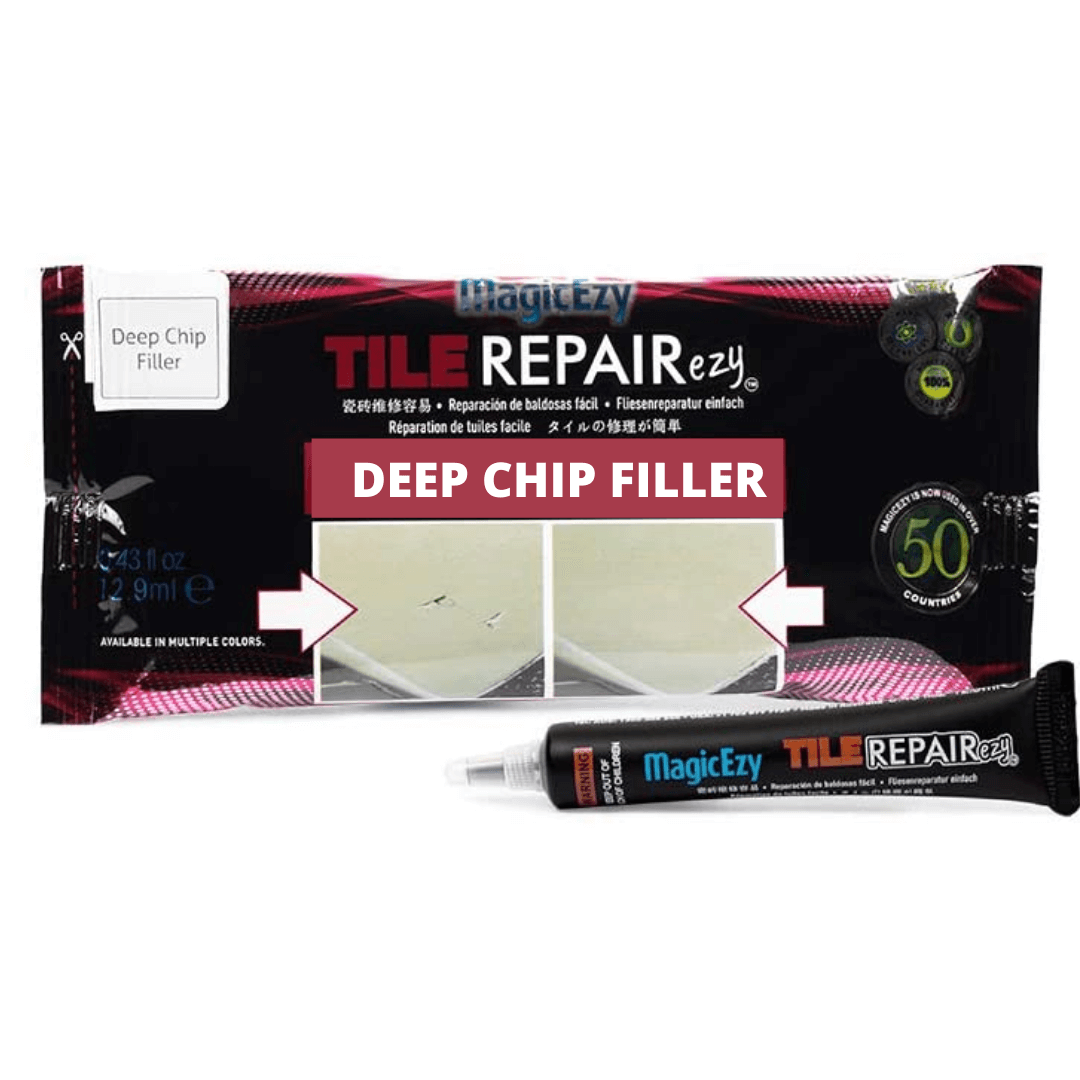 Description
Ultra wide cracks, deep gouges, & drill holes in your ceramic tiles?
Deep Chip Filler structurally repairs ultra-deep damage fast. Our pre-colored Tile REPAIREZY™ gel fillers are awesome for most chips and cracks but if the damage is over 4mm deep, we recommend using Deep Chip Filler first.
It's a marine-grade epoxy filler that fixes the damage and restores the structural integrity of ceramic and porcelain surfaces.
Like other MagicEzy® products Deep Chip Filler is powered by nanotechnology so particles seep deeply into the damage to deliver industrial grade adhesion.
Suitability
FIXES: Ultra-deep chips and ultra-wide cracks over 4mm wide/deep.
WORKS ON: Ceramic tiles, porcelain, acrylic, fiberglass, dry wall, marble, granite, stone, wood.
SURFACES: Bathroom or kitchen floor tiles, wall tiles, sinks, and all stone surfaces - indoor and outdoor.
FINISH: Dries with a matte finish. For a glossy, color-matched finish apply a topcoat of pre-coloured Tile Repairezy ® gel filler.
90-day Customer Satisfaction Money Back Guarantee.
Lifetime Durability Guarantee.
Colours
Deep Chip Filler comes in a greyish-white colour. We recommend using it as a structural repair then applying a topcoat of glossy, colour-matched Tile REPAIREZY™.
Tech Specs
Water soluble, one-part epoxy filler (air catalyst).
UV and water resistant.
Non-toxic. Water clean-up.
Flexes with movement to help prevent cracks from spreading.
Can be sanded and drilled.
No primer required.
Suitable for use at temperatures above 70°F / 20°C.
In cool temperatures use a hairdryer to set for 2 minutes.
Vol. 12.9mL / 0.43 fl oz.
Application Instructions
Scrub soapy water into damage, rinse and fully dry.
Knead and shake the tube for 2 minutes.
Slightly overfill damage with Deep Chip Filler.
Turn tube and gently level repair with "LEVEL".
Clean LEVEL with a tissue then trim off smears. Repeat.
Special Instructions:
Below 20C/70F set repair with a hairdryer for 2 minutes.
Deep damage apply 2/3 times.
WET AREAS - seal with clear sticky/scotch tape for 3days.
Suited for above the waterline