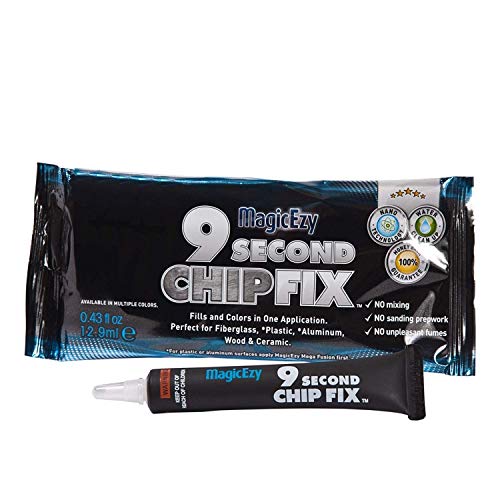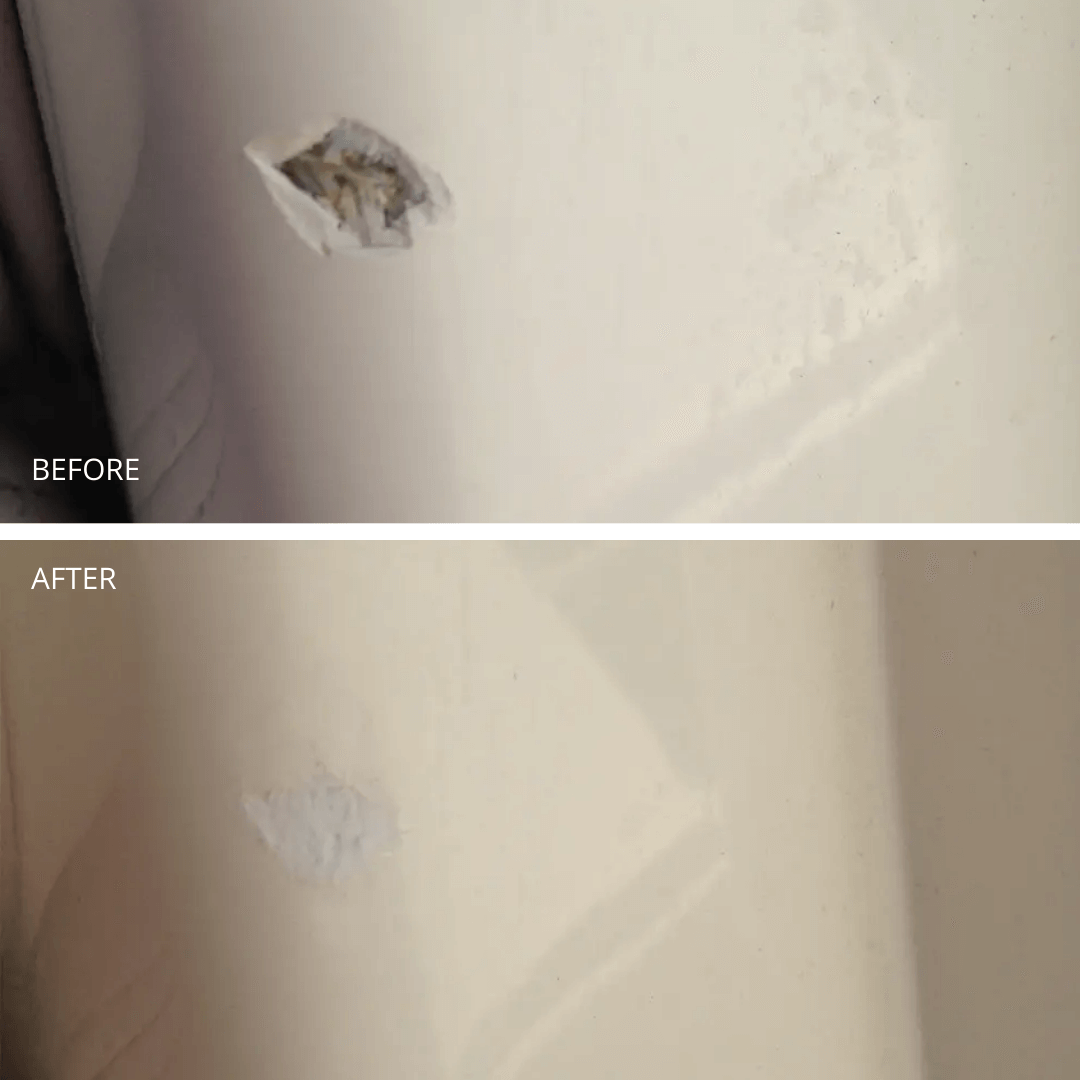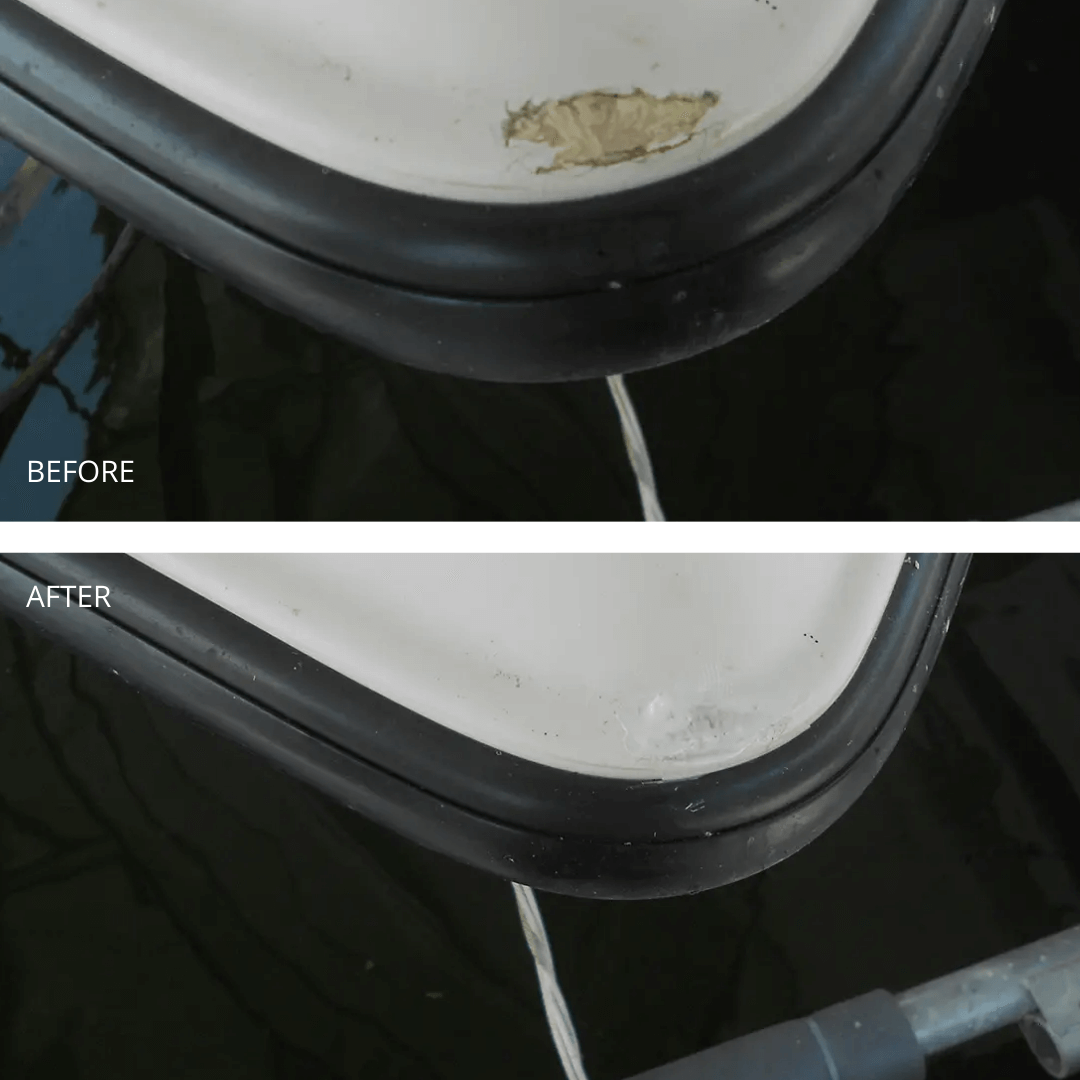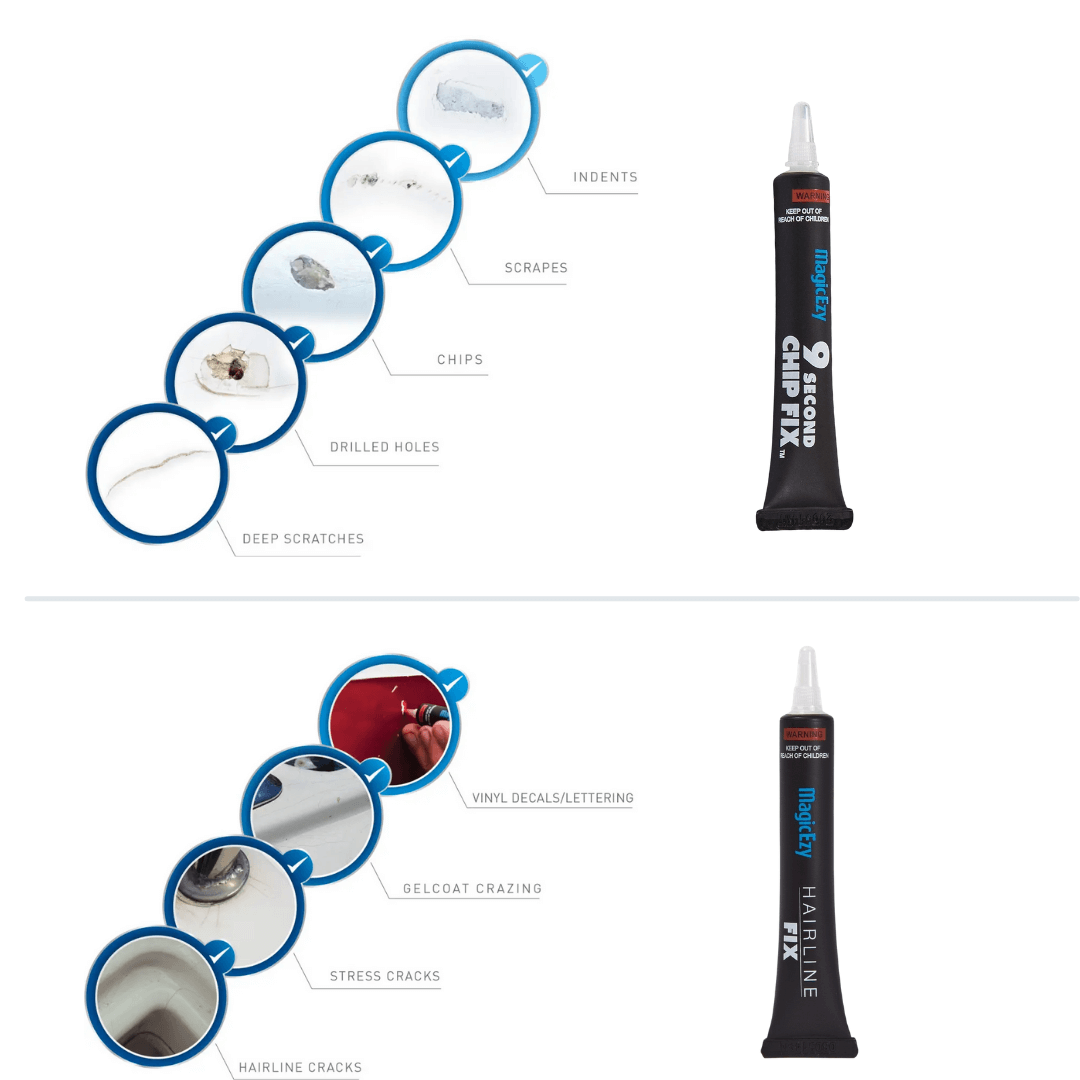 Description
Fiberglass boat damage? Here's the smart way to patch chips, gouges, and drill holes like a pro.
9 Second Chip Fix is a super-tough, pre-coloured filler that repairs, colors, and seals fiberglass and gelcoat damage in one application.
In fact, it's so easy to use, virtually anyone can achieve a professional looking repair Just clean, apply, level and wipe. EASY. (Check out the reviews).
Better still, repairs last. Nanotechnology deeply penetrates into the damage to deliver industrial grade adhesion. It's highly elastic too so it absorbs shock and helps prevent further damage.
Long lasting repairs with a Lifetime Durability Guarantee.
EASY TO USE: Just clean, squirt, level, wipe. EASY.
Highly versatile – you can also use it on tiles, countertops, furniture and walls.
1000's of boat owners in over 50 countries are raving about 9 Second Chip Fix. You will too. Grab a tube today and you can say goodbye to those ugly marks in no time.
Suitability
FIXES: Holes, chips, cracks, and gouges over 1mm. For fine cracks and scratches use Hairline Fix instead.
WORKS ON: Fiberglass, acrylic, porcelain, enamel, ceramic, wood, carbon fiber, dry wall, ceramic, stone. 
For plastic, PVC, aluminum, or carbon fiber, prime with Mega Fusion first.
FINISH: Matte. For a gloss finish, apply a topcoat of Hairline Fix.
USE IT EVERYWHERE: Boat, jet ski, shower, tub, sink, tiles countertop, porcelain, acrylic, enamel, stone, and more.
PRE-TINTED: 7 colors – whites, blues, and black.
ULTRA STRONG NANOTECHNOLOGY – backed by a Lifetime Repair GUARANTEE.
90-day Customer Satisfaction Money Back Guarantee.
Colors
Available in 4 popular colors:
Snow White
Oyster White
Matterhorn White
Midnight

Tech specs
Water soluble, one-part epoxy, air catalyst.
UV and water resistant (above the waterline use only).
High fill-rate / minimal slump.
Can be applied to vertical surfaces.
Can be sanded and drilled.
No primer required.
Suitable for use at temperatures above 70°F / 20°C.
In cool temperatures use a hairdryer to set for 2 minutes.
Vol. 12.9mL / 0.43 fl oz.
Application Instructions
Use correct color or blend colors
Scrub soapy water into damage, rinse and fully dry.
Knead/massage the tube for 2 minutes.
Slightly overfill damage with 9 Second Chip Fix.
Turn tube and gently level repair with "LEVEL".
Clean LEVEL with a tissue then trim off smears. Repeat.
Special Instructions:
Below 20C/70F set repair with a hairdryer for 2 minutes.
Deep damage apply 2/3 times.
WET AREAS - seal with clear sticky/scotch tape for 3 days.
Suitable for above waterline use.